Office Cleaning Services Qatar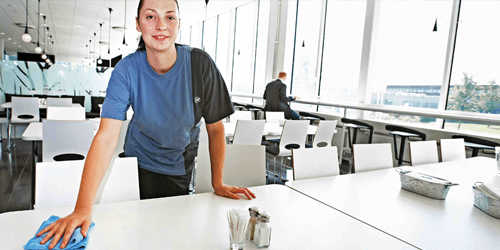 Our services don't end with residents; we are able to extend our distinct services to the commercial sector. From retail stores, corporate buildings, and hotels to full scale industries and hospitals, our team of maids will do according to how they are told, once you give them the instructions and your vision of how you would like your property to be cleaned.
You will see our maids using the same set of skills that they had in the residential cleaning, and effectively purging the commercial spaces of any contaminants and making workspace conducive for productive work.
Our maids are adept at any environment or type of office, whether it is an office or hotel or clinic, our adept maids can be trusted to do their job with excellence and complete it with perfection. The perfect way for you to get your office up and running is to have this cleaning done with the help of our maids.
Although, it is not just the office that is our maids are proficient in cleaning, they are also extremely good at cleaning other spaces. We are specifically referring to warehouses where you might have stored many of your goods, and now has found your warehouse teeming with insects and unwanted debris; therefore, you will need expert warehouse cleaners who know how to clean the large spaces and completely eliminate all debris or contaminants, and make it once again a viable place to store your things safely.
Besides the skills that had already been mentioned, our maids will also engage in pantry cleaning as well as project cleaning as complementary services to the main cleaning.
Cleaning:
Offices of any kind falls within our capacity;
Hospitals or clinics, you will see absolute sanitation once we're finished;
Hotels, after we have finished cleaning, will compel people to dine more;
Retail stores will see more customers flooding in;
Industries will get a boost in productivity once a clean environment is established;
Warehouses will see it having more spaces and can store more things.
Services:
Vacuuming to get rid of the dust, leaving nothing behind;
Washing to eliminate stains and mark, as well as to create scent;
Drying, to make the place able to be walked upon;
Polishing to give everything that extra sheen;
Wiping places that are hard to reach otherwise;
Shampooing objects like furniture to completely purify;